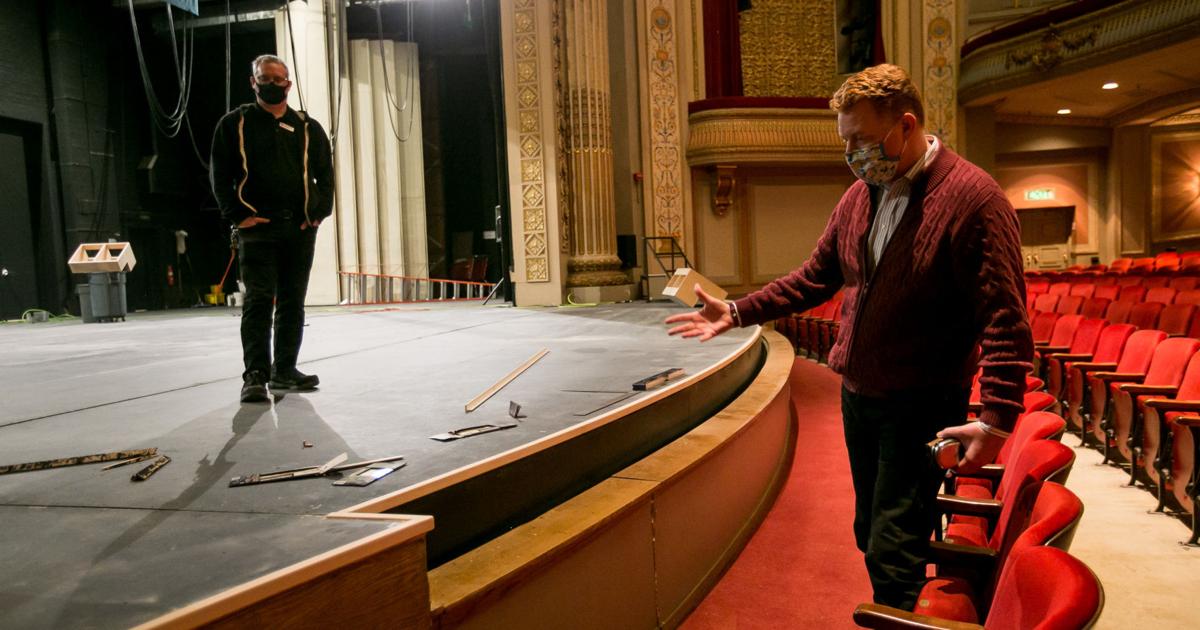 Yakima Music and Theaters Begin Planning for Post-Pandemic Reopening | Explore Yakima
Yakima performance venues, which have spent the past 13 months in survival and survival mode, are working on reopening plans to welcome audiences back.
The plans, of course, are full of caveats — whether touring artists and businesses are up and running, whether state capacity restrictions are eased enough to let in crowds, whether there's enough time to take care of all the logistics – but they represent a significant change since the end of last year. Back then, before the availability of the COVID vaccine reached the masses, you couldn't convince Capitol Theater CEO Charlie Robin to talk about reopening in anything other than hypothetical terms. Deadlines were not part of the discussion. Now, he says the theater, Yakima's century-old grande dame of the arts and entertainment world, could host performances again as early as November.
"This is where we plant our flag," he said.
The Seasons Performance Hall, which has kept the Yakima live music flame flickering with live streams throughout the past year and very limited in-person seating for the past two months, is also beginning work for a more complete reopening. Executive Director Pat Strosahl began developing plans to approach other sites in the region to gauge their interest in collaborative programming. That is, he tries to organize a system whereby artists could set up tour routes with multiple venues at once, saving them the trouble of doing it piecemeal.
And the Warehouse Theater Company, Yakima's long-established community theater troupe, is scrambling to figure out how it could hold shows on its lawn this summer to get back on track before capacity restrictions allow crowds to enter. new in the intimate theatrical space.
"We're chomping at the bit, trying to figure out what we can do to get back," said Warehouse executive director Vance Jennings. "We are continually reviewing the guidelines and trying to get into them as soon as possible."
In addition to the optimism stemming from rising vaccination rates, the outlook for these site operators has been bolstered by a potential injection of federal funds. The $16 billion grant for operators of gated venues, whose applications were due to open last week but were delayed by technical issues, promises the kind of help arts, entertainment and cultural venues need to reopen seriously. With potential grants of 45% of an organization's gross revenue in 2019 (capped at $10 million), the SVOG program is built for reopening.
"If we do open in November, we need to have the revenue to cover all the ramp-up expenses," Robin said.
For the Capitol, that means rehiring laid-off staff or hiring new employees. The site generally operates with the equivalent of approximately 20 full-time employees. But the reduced crew working for the organization has only five people left. Plus, there's the matter of bringing together all the show-specific part-time workers and volunteers; it takes 120 to 150 people to make a traveling Broadway-style production in Yakima.
To do that without the revenue streams it usually has would put the Capitol in a precarious position, Robin said. Its budget is more stable than most venues due to its partnership with the city and collection of revenue from sales tax, lodging tax, and cable tax. But lodging tax revenue fell off a cliff last year, as did facility rentals, which normally account for about 40% of the Capitol's budget.
A $500,000 SVOG prize, which Robin says is what the venue would qualify for, would go a long way.
"It's because of the prospect of the closed site operator grant that we're really seeing how we're going back up," he said.
The Seasons has a similar outlook, Strosahl said. Like the Capitol, The Seasons relies on facility rentals for much of its budget. And while it may have remained partially open, first as a livestream location and more recently for limited-capacity in-person seating, it does not make a profit on those shows. An infusion of federal money would be "the support we need to get to the other side," he said.
Stosahl doesn't expect live music — which relies on comprehensive, multi-city touring itineraries to make it interesting for artists — to return to 2019 levels for at least a year. But an SVOG grant would allow The Seasons to bridge the gap by continuing its live-streaming model with remote VIP seating. Live streaming adds $1,800 to $2,000 in venue costs per show, he said.
"So the amount of money from this grant could bail us out for 40 or 50 gigs," Strosahl said.
The Warehouse Theatre, which operates on an all-volunteer model, does not have the staffing costs of other venues. But it still has the maintenance expenses of a large facility, which for over a year has not come cheap. As has been the case with the Capitol and The Seasons, the Warehouse has received vital donations and aid money during the pandemic. But without the cash flow from ticket sales, it could really use up the grant money for gate operators.
"It would allow us to pay for the things necessary for us to reopen," Jennings said.
And, of course, the new round of federal funding won't solve all of the venues' problems. Going dark (for almost two years by the time it's all over) takes a bite out of a place's budget. And that $16 billion is going to go fast. But during a Zoom roundtable with site operators last week, U.S. Sen. Maria Cantwell, D-Wash., indicated she understands that. She will continue to work to help them recover, she said.
"I was very happy to hear Senator Cantwell acknowledge that," said Robin, who was one of the site operators on the Zoom call. "It is understood that there is high demand."
There is also a broad understanding among site operators that their work means more than money to their community. In Yakima, the Capitol is a symbol of history and resilience as well as a place to see a wide range of diverse programming. The Seasons is the place to see important musicians from genres as disparate as Latin rock and cool jazz. And the Warehouse is a showcase for the theatrical talents of the community itself.
The arts are "how we become human," Strosahl said, citing prehistoric cave paintings as evidence of how artistic expression is intrinsic to our identity.
"It's not an economic activity, it's not a livelihood, it's not hunting and gathering," he said. "It's trying to mirror the human experience and communicate that to other people, and that's deeply needed."