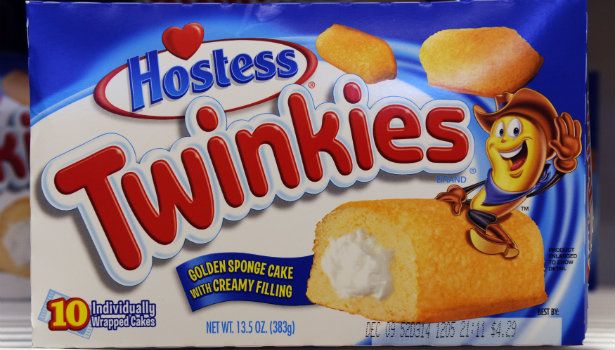 Who's to blame for the hostess' bankruptcy: Wall Street, the unions, or the carbs?
Try all of the above.
(Reuters)
Hostess Brands, the makers of Twinkie and Wonder Bread, are about to bake their latest corn syrup cupcake. After failing to secure major contract concessions from one of its main unions, the beleaguered 82-year-old company has filed in federal bankruptcy court to get permission to start liquidating its assets – or, in person, to begin the process of selling parts of the company to the highest bidder while laying off most of its 18,500 workers.
There are two important things to realize about this rather sad situation. First: Twinkie, Wonder, and all the other high-calorie wonders of culinary science that Hostess sells aren't going to disappear from the shelves for good. One of its competitors will probably dive into, buy them back and restart production. So you can stop bidding on $100 boxes of Sno Balls on eBay.
Second: This is not a simple story that anyone should try to fit neatly into their political arguments. It's not just Wall Street going after Main Street, or big bad unions sucking white for a healthy American business. It's a whole galaxy of bad decisions that will cost many people their jobs and their money.
Like David Kaplan chronic long for Fortune earlier this year, the roots of this debacle go back to when Hostess filed its first bankruptcy in 2004. Much like the situation automakers would find themselves in a few years later, the company was collapsing under the weight of declining sales, overly generous union contracts. filled with ridiculous work rules and big debts. But unlike the automakers, Hostess' five years of trying to fix herself in Chapter 11 haven't solved her core problems.
Instead, they set the stage for his eventual demise. A private equity firm, Ripplewood Holdings, paid about $130 million to privatize Hostess, and the company's two main unions, the Teamsters and the Bakery, Confectionary, Tobacco Workers and Grain Millers International Union, sacrificed about $110 million in annual salaries and benefits. . But his employment contracts were still deeply flawed. Worse still, the company emerged from bankruptcy with more debt than it had – "an unusual circumstance which the company justified by expectations of 'growth' in its capital structure", as the company put it. Kaplan.
Needless to say, Hostess hasn't grown much. He continued to lose hundreds of millions of dollars making and selling starchy snacks that much of the public had lost the taste for, while failing to launch quality new products. The interest on his loans swelled the company's debt. By January 2012, he was back in Chapter 11, trying to negotiate a new contract with more concessions from his unions.
Hostess insisted that unless workers agree to further cuts, the company would have to shut down permanently. It's the kind of threat that troubled companies often make in collective bargaining, and unions tend to view it as a bluff. But after looking through Hostess's books, the Teamsters concluded the threat was serious. Its members narrowly approved the contract in September.
The bakers' union, which represents about a third of the hostess workforce, did not. Instead, they launched a strike last week which Hostess CEO Greg Rayburn said forced the company to take the final dramatic step of liquidating everything and firing workers. By the AP:
Although many workers decided to cross the picket lines this week, Hostess said that was not enough to keep operations at normal levels; three factories were closed earlier this week. Rayburn said Hostess was already operating with thin margins and the strike was a final blow.

"The strike impacted us in terms of cash flow. Factories were operating well below 50% capacity and customers were not getting product," Rayburn said.
It is unclear what, other than perhaps misplaced faith in the belief that they really had the upper hand, could have convinced the bakers to strike. Certainly the Teamsters anything but begged they accept the new contract. Some, interviewed by CNNMoney, said their jobs simply weren't worth keeping at the pay levels offered by Hostess. If that really was the mainstream view, it's a shame, because a lot of people at this company seemed to believe their jobs were valuable enough to keep, even if they were at a lower pay grade.
Already, some parties have tried to politicize this matter. The AFL-CIO today called him "a microcosm of what's wrong with America, as the vultures from Wall Street to Bain get rich by making Americans poor." GOProud sent an email with a wink titled "Unions are killing the Twinkies" (literally, they wrote in a wink).
Both takes are exceptionally reductive. Let's first look at Wall Street. Private equity players will likely lose most of their investment because their stake in the company will be worthless. Nor is it clear that the hedge funds and other lenders who provided Hostess with its mountain of loans will fare much better. When it entered Chapter 11 this year, the company owed about $935 million, if you include the extra loan it took out to keep the lights on and the cream flowing. Meanwhile, Reuters reports that the company has listed $981.6 million in assets in its bankruptcy filing. There's virtually no chance they'll ever sell in a liquidation. One of the failed bids to buy the whole business after its last bankruptcy valued it at just $580 million. And that was when it was an ongoing operation. If you factor in the interest payments that Hostess has made on its loans, some of the creditors might end up getting away with it. But it seems unlikely that someone will do a murder.
In short: the smart money guys dumped Hostess with too much debt and never came up with a real plan to fix her business. They come out with a loss as a result.
Regarding the unions: You can blame them for not making enough concessions. You can blame the bakers for administering the final knockout blow. But you can't blame them for strategic management incompetence or the decision to try to run a struggling company on debt, hope and empty calories.
There's more than enough blame in this story for everyone involved to get a taste.