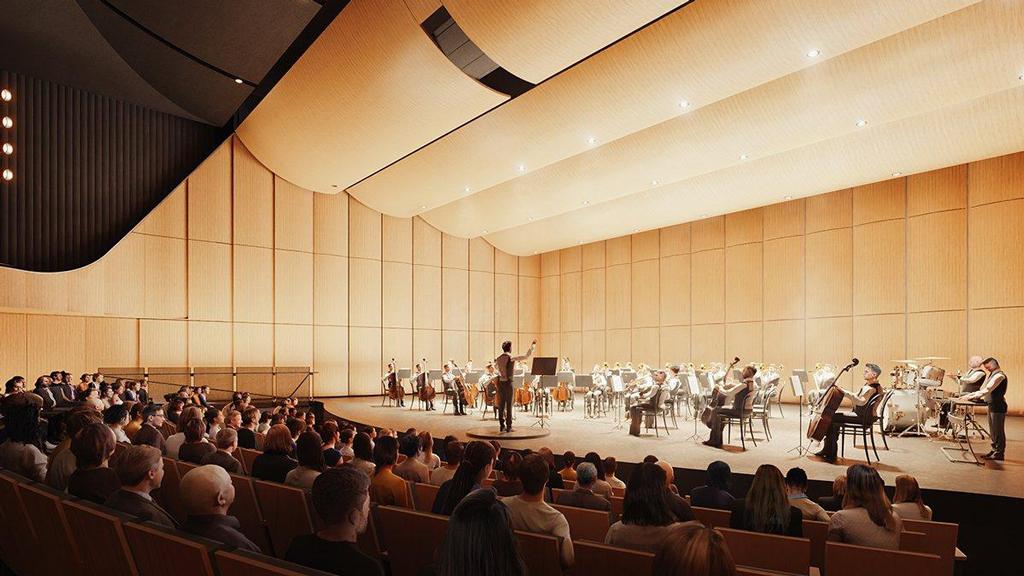 University of Manitoba builds new $24 million concert hall
The University of Manitoba (UM) is building the state-of-the-art, $24 million Desautels Concert Hall which, when put up for competition in the fall of 2023, will not only provide ample performance space for students in the Faculty of Music from the university, but also an intimate performance hall for lectures, conferences and other events.
The concert hall, named for philanthropist and principal donor Dr. Marcel Desautels, who contributed $10 million to the project as well as another $10 million to the faculty of music, is built in the heart of the Fort Garry campus.
According to a spokesperson for prime contractor Parkwest Projects, the site for the new concert hall, flanked by existing buildings on four sides, posed a serious challenge that only allowed limited construction machinery specific to certain aspects of the facility. operation.
An example of such specialist machinery is the Putzmeister Telebelt TB 130 for placing backfill sand (backfill) around the foundation. The design of the stabilizers allows quick installation in congested areas and uneven terrain.
Additionally, Teeple Architects of Toronto, which partnered with Cibinel Architecture of Winnipeg to design the facility, pointed out to Canadian Architect Magazine that "the orientation of the room was governed by the need to construct a orchestra below ground level while avoiding a major underground utility tunnel". crossing the site diagonally.
According to the University of Manitoba, the hall will include a large stage for orchestral groups; a small stage for jazz ensembles, chamber ensembles and vocal recitals; and a proscenium stage for theater and dance performances. This layout can also accommodate opera and musical theater productions with an orchestra pit for 48 musicians.
The flexibility of the hall is possible thanks to an adjustable concert shell system made up of movable towers, pivoting panels and ceiling reflectors, the university explains. This system is then integrated into the house.
The hall also features catwalks above the stage to allow for rigging sets or adding lighting and draperies and a technical cabin at the rear.
A green room, multiple changing rooms, storage space, as well as a reception area, food and beverage concession, and ticket office are also included.
The concert hall is currently on track to achieve LEED Silver designation for green building standards.
For stacking operations, Parkwest Projects used the Hilti robotic total station.
"This technology provides accurate readings over large distances four times faster than two people using traditional layout methods," the Parkwest spokesperson noted.
In a report published in the University's news publication UM Today, the room is described as "unique among Winnipeg venues" in that it "can be configured in three ways to create an optimal acoustic and visual experience. ".
"I am excited about this new space, which will be unlike any other in Winnipeg," said Michael Benarroch, president and vice-chancellor of UM, quoted in the academic publication. "It will allow new performances to move and inspire us, fostering connections between communities in a way that only performance pieces can."
Benarroch added that the new facility would not be possible "without the generosity and vision of Marcel Desautels, Gail Asper and Michael Nesbitt (Nesbitt and Asper each contributing $2.5 million). Their support made this possible, and on behalf of Manitobans, I thank them.
Funding for the project comes entirely from private donors.
A "Your Seat Awaits" donation campaign is underway. Donors who donate $1,000 or more have the option of nominating a seat in the room.