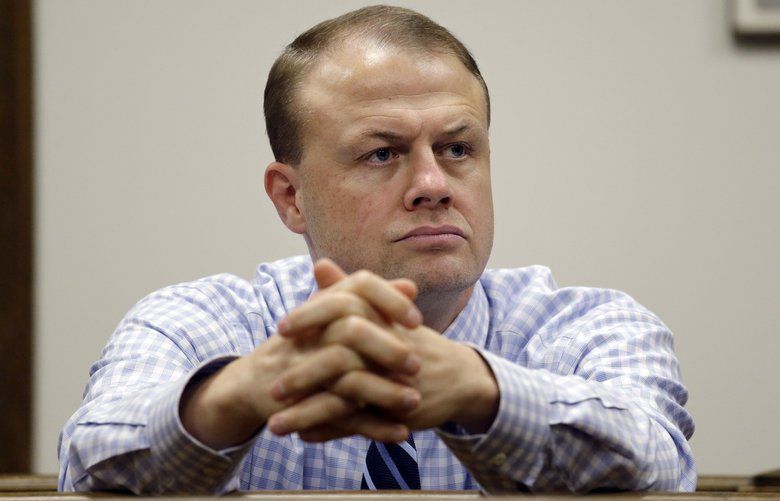 Tax protester Tim Eyman files for bankruptcy as legal issues persist
Eyman says rising legal costs have forced him to seek protection and possible reorganization of his debts under Chapter 11.
Tim Eyman filed for bankruptcy on Wednesday, adding another wrinkle to the anti-tax crusader's legal saga.
Eyman and Citizen Solutions, a signature collection company, fought against a lawsuit filed last year by state attorney general Bob Ferguson. In an email Eyman sent to supporters and reporters, he said the lawsuit had taxed his finances and his family to breaking point.
"While the AG had unlimited resources to assign teams of taxpayer-funded attorneys to bury me and my attorneys in an endless maze of motions and proceedings, my legal costs had to be privately funded (from the limited resources of my family and the financial support of people like you)," Eyman wrote.
Eyman filed a Chapter 11 lawsuit in the U.S. Bankruptcy Court for the Western District of Washington in an effort to protect his financial assets while defending against the state. According to the filing, Eyman has just over $2 million in assets against liabilities of nearly $3.2 million. Washington State is cited as being liable for almost all of the $3,177,000. Other creditors include Seattle law firm Klinedinst, which owes $77,000 in legal fees.
The attorney general's trial against Eyman had been set for November 26, but months ago it was pushed back to January 2020.
In an emailed statement, Ferguson said Eyman's legal and financial troubles were self-inflicted.
"The public should know that in addition to being held in contempt of court, Mr. Eyman was due to sit for deposition in this case in less than two weeks and has informed the court that he plans to invoke his right to a fifth amendment to avoid self-incrimination, something he has already done in his written discovery responses," Ferguson said.
The bankruptcy filing revealed that Eyman had been earning $42,573.84 a month since May, owned his house in Mukilteo and three cars; a 2013 Ford Explorer, a 2013 Mercedes C300 and a 2012 Chrysler Touring 200. The documents show he has $198,000 in his checking account and says he owes her $500,000 which he lent to his efforts to place a $30 car tab initiative on the next ballot.
Eyman's record provides a year-to-date average of his monthly income, which consists of $13,461.44 in gifts from supporters for his legal defense; $21,695.97 from supporters and family and $2,154.55 from loved ones.
Ferguson also noted that the financial gifts he received could violate campaign finance laws. "We note that Mr. Eyman claims to have received more than $20,000 per month in gifts. We look forward to presenting our case to the court that these donations are in fact political contributions, solicited for political purposes, which should have been reported to the public. We have sought permission from the court to amend our complaint to include other alleged violations of Washington's campaign finance laws," he said.
The state lawsuit, filed in Thurston County, stems from a complaint filed with the Public Disclosure Commission in 2015 regarding Eyman's alleged improper use of money raised for an initiative but spent on a another initiative effort in 2012. The lawsuit also accused Eyman of spending money raised for initiatives 2012, I-1185 and I-517, on personal expenses and his family.
In September, the judge in charge of this case found Eyman in contempt of court for failing to turn over records, and increased fines for Eyman and Citizen Solutions to $500 a day each. The attorney general's office estimates that Eyman and Citizen Solutions racked up a combined fine of $182,500.
I-1185 sought to reinstate a law requiring a two-thirds vote of the legislature to raise taxes. It was passed that year, but the state Supreme Court struck it down. I-517, which voters did not approve, was intended to bolster the power of initiative groups and would have given campaigns an additional six months to collect petition signatures.
The trial of the AG stems from a complaint investigation in 2015 by the state's Public Disclosure Commission which alleged that Eyman improperly used money raised for Initiative 1185 to promote Initiative 517.
In a September filing in Thurston County Superior Court, Ferguson wrote that Eyman withheld discoverable financial records for 14 months after he had numerous opportunities to voluntarily produce the records. "Instead of complying, he chose to resist all state efforts to secure these recordings and orders to produce them," Ferguson wrote.
In his email, Eyman said the extension of the lawsuit to 2020 was 'devastating' because of his mounting legal costs, which totaled $80,000 last month, leaving him with no choice but bankruptcy. .
Eyman also noted that the strain of legal proceedings broke up his 25-year marriage and led to his wife's divorce. The Eymans have three children between the ages of 10 and 20.
An earlier version of this story misrepresented Eyman's monthly income since May.