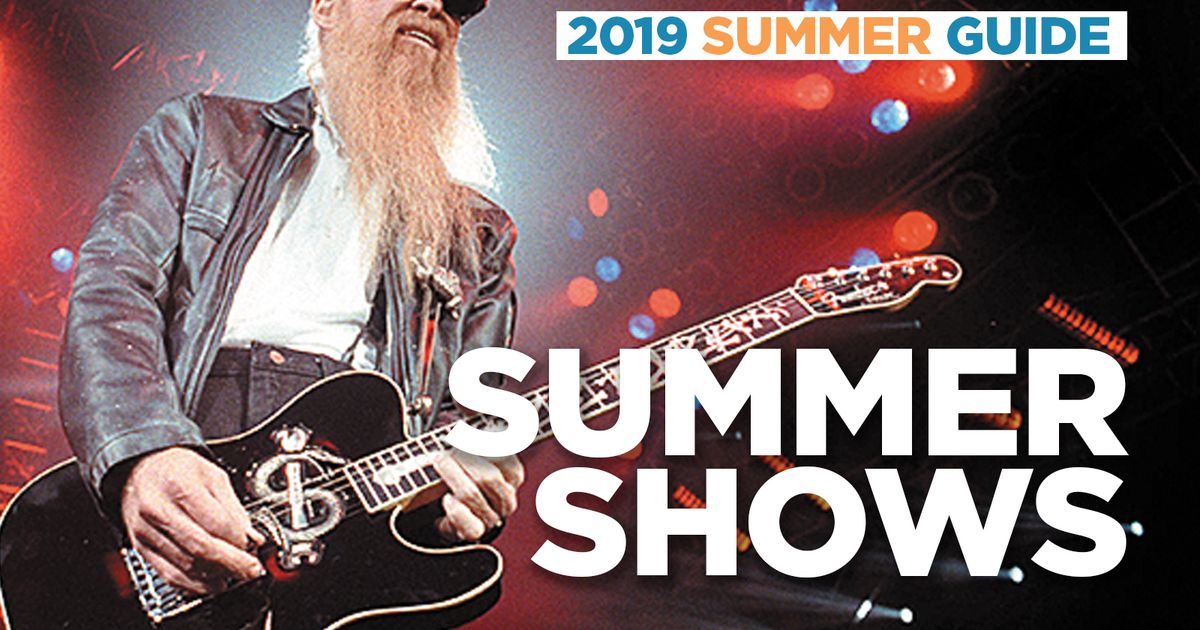 Summer Guide: Inland Northwest Has Busy Summer Music, Theater Schedule
Whether you like to bask in the sun or prefer to entertain in the comfort of an air-conditioned venue, the summer entertainment season in the Interior Northwest has something that fits the bill.
Below are some of the notable events taking place over the next few months.
Northern Quest Outdoor Summer Concerts
Rock or hip-hop, country or comedy: Northern Quest Resort and Casino has a little something for everyone during its outdoor summer concert series.
Here's a look at the remaining artists coming through Northern Quest this summer: Michael Franti and Spearhead and Ziggy Marley (Sunday), Pitbull (Monday), Brett Eldredge and Easton Corbin (Thursday), Snoop Dogg and Warren G (July 18-19), Steve Martin and Martin Short (July 21), Michael McDonald and Chaka Khan (July 23), Pat Benatar, Melissa Etheridge and Neil Giraldo (July 28), Toby Keith (August 6), Legends and Outlaws: Travis Tritt and Charlie Daniels ( August 13), ZZ Top (August 17), Weird Al Yankovic (August 18), Styx and Loverboy (August 22), Sammy Hagar and the Circle (August 24), the Steve Miller Band and Marty Stuart and his fabulous superlatives (28 August), Jeff Dunham (September 7) and Old Dominion (September 15).
Tickets are on sale now at TicketsWest outlets. All concerts require guests 16 and under to be accompanied by an adult.
Coeur d'Alene Summer Theater
It's back to basics for the Coeur d'Alene Summer Theater.
The theatre's 2019 season marks the return of Executive Director Tracey Vaughan and the arrival of Artistic Director Stu Cabe, who has been involved in theater since 1986 in roles as an actor, singer, dancer, set builder, CEO and board member.
Vaughan has served as executive director for two seasons in recent years and returns this season after a brief hiatus.
Summer theater Coeur d'Alene kicked off the season with "Beauty and the Beast," which runs through June 30. The season will continue with "Oklahoma" from July 11-28 and "Smokey Joes' Café" from August 8-25. .
"From an artistic director perspective, our three-show season also adds old to new," Cabe said in a press release. 'Beauty and the Beast' is a new classic, 'Oklahoma' is an old classic made in a new and exciting way, while 'Smokey Joe's Café' is the perfect blend of new and old. We can't wait for people to see this season.
Spokane Valley Summer Theater
The Spokane Valley Summer Theater kicked off its 2019 season with a fan favorite, "Always, Patsy Cline," starring Andrea Olsen.
And there are still a few opportunities to catch the show, which runs until June 30.
Continuing the season, SVST will present the Rodgers and Hammerstein classic "The Sound of Music" from July 12-14, 18-22 and 25-28.
The season concludes with the ABBA musical "Mamma Mia!", which runs August 9-11 and August 14-18.
Tickets are available at www.svsummertheatre.com or by calling (509) 368-7897.
This season, SVST will perform at University High, 12420 E. 32nd Ave., Spokane Valley, while their regular home, Central Valley High School, is undergoing several months of work on the HVAC/AC system.
SVST returns to Central Valley in 2020. All three musicals will be directed by Yvonne AK Johnson.
Spokane Civic Theater
For its first summer production in 19 years, the Spokane Civic Theater is producing "Spring Awakening."
"Spring Awakening," which runs July 12-28 on the Main Stage, follows a group of teens as they experience the trials and tribulations of teenage sexuality.
The musical features music by Duncan Sheik and book and lyrics by Steven Sater. It is based on the 1891 German play of the same name by Frank Wedekind.
"Spring Awakening" is aimed at mature audiences for strong language, brief nudity, and adult themes. It is co-directed by Sarah Dahmen and Jake Schaefer. The music is conducted by Henry McNulty.
This summer, the Spokane Civic Theater Academy will also produce a play, "Tom Sawyer," and a musical, "13," in the theater studio.
"Tom Sawyer" airs July 19-28 and "13" August 16-25. "13" is directed by Kearney Jordan and music directed by McNulty.
norah jones
Norah Jones' latest album "Begin Again" features familiar songs as well as new material.
The album, which was released in April, contains four Jones singles released last year: "It Was You", "My Heart Is Full" with Thomas Bartlett, and two songs with Wilco's Jeff Tweedy, "A Song With No Name" and "Winter.
Along with the title track, the album also contains "Uh Oh" and "Just a Little Bit".
"I'm trying to get in (the studio) with a couple of voice memo idea clips to get a starting point," Jones told Idolator in February. "Each session the little ideas were definitely with those particular musicians in mind, but the hope is to always create in the moment, and each session there were songs that came out of nowhere. I was very open and had no real expectations of direction, but each session exceeded my expectations.
Jones will headline a sold-out show July 26 at Fox's Martin Woldson Theater.
Festival at Sandpoint
Since 1983, the Sandpoint Festival has enlivened August evenings with rhythmic concerts on the shores of the Pend Oreille lake.
This year's festival, held at Memorial Field in Sandpoint, is no different. This year's festival features the following acts:
August 1: Nathaniel Rateliff and Night Sweats; August 2: Walk off the Earth; August 3: Jackson Browne; August 4: Family concert; August 8: Lake Street Dive; August 9: The Avett Brothers; August 10: Kool and the Gang; August 11: Spokane Symphony.
Tickets available at www.festivalatsandpoint.com.
Watershed Music and Camping Festival
The nation's biggest weekend, Watershed Music and Camping Festival, will feature Jason Aldean, Zac Brown Band and Miranda Lambert, performing solo and with the Pistol Annies, Lambert's trio featuring Ashley Monroe and Angaleena Presley, at the Gorge Amphitheater August 2-4.
Watershed 2019 will also feature performances by the Osborne Brothers, Kane Brown, Midland, Kip Moore, Maren Morris, Chris Young, Danielle Bradbery, Cam, Cody Johnson, Carly Pearce, Randy Rogers Band, Michael Ray, Mitchell Tenpenny, Chris Young and DeeJay Silver . , with more acts to be announced.
The three-day, two-stage festival takes over the Gorge Amphitheater from August 2-4. Passes are on sale now at www.watershedfest.com.
More fun at the Gorges
On August 9, British folk-rock quartet Mumford & Sons will headline The Gorge as part of their "Delta" tour.
The group released "Delta," which includes the singles "Guiding Light," "If I Say" and "Beloved," in November.
The album debuted at number one on the Billboard 200, Americana/Folk Albums, Alternative Rock Albums, and Rock Albums charts.
And from August 30 to September 30. 1, Dave Matthews Band will host their annual three-day Gorge Run.
Since 1999, the Dave Matthews Band has stopped at Gorge every year over Labor Day weekend. The band took a break from the road in 2017, but returned to the amphitheater last year with 'Come Tomorrow', their first album since 2012's 'Away From the World'.
According to a press release, this year's concerts will bring the band's live count to more than 60.
Country music artist Miranda Lambert performs during her 'Livin' Like Hippies' tour, Friday, Feb. 2, 2018, at Spokane Arena. (Colin Mulvany/The Critic-Review)
Pig in the park
Pig Out in the Park celebrates 40 years of food and fun with its biggest musical lineup yet.
This year's festival, August 28-September 2 at Riverfront Park, will feature performances by Scott Stapp of Creed (August 29), rapper Coolio (August 30), southern rockers Black Oak Arkansas (August 31) and des Posies (September 1), who performed at the Bartlett in January.
Peter Rivera, Too Slim and the Taildraggers, Teresa James and the Rhythm Tramps, Super Sparkle, Sammy Eubanks and the Work'in Class and Kosta La Vista will also perform.
The rest of the entertainment lineup will be announced in the coming months.
The festival features 50 food stalls with 225 menu items and three adult drink gardens.
Kansas
After a successful 'Leftoverture' anniversary tour, the Kansas rock legends embark on the 40th anniversary 'Point of Know Return' tour, which includes a 9/11 date at the First Interstate Center for the Arts.
The tour includes a performance of the acclaimed album, featuring "Dust in the Wind", in its entirety, as well as a set of deep cuts and fan favorites.
Tickets cost between $47.50 and $126.50 or, if you want to do it all, a VIP package, which includes a photo with the band, premium reserved seating and a variety of Kansas merchandise, costs $286.50 .
Diana Krall
Luckily for fans in the interior northwest region, Grammy-winning jazz singer and pianist Diana Krall's seven-show tour includes a stop at the First Interstate Center for the Arts on September 16.
Krall's longtime collaborator and friend, bassist John Clayton, will join her over the dates, as will Grammy Award-winning saxophonist Joe Lovano and drummer Karriem Riggins.
Krall released "Turn Up the Quiet" in 2017 and "Love Is Here to Stay", a collaborative album with Tony Bennett, in 2018.
Tickets cost between $59.50 and $97.50 and are available at www.ticketswest.com, at all TicketsWest outlets and by calling (800) 325-SEAT.
Bob Seger and the Silver Bullet Band
Attention Bob Seger and Silver Bullet Band fans: The band will be stopping by the Spokane Arena on September 19 for the "Roll Me Away" tour, the band's final tour.
The "Roll Me Away" tour, which kicked off in November, took Seger and the Silver Bullet Band across the country as they perform hits like "Hollywood Nights," "Still the Same," "Old Time Rock and Roll" and "Roll me.
The "Roll Me Away" tour, from now on, will end Oct. 5 in Indianapolis, a celebration of a career that even Seger didn't see coming.
"I thought I would be done at 30," he told Rolling Stone in January 2018. "My original plan was to do it for five years between 25 and 30, then buy a motorbike and to cross Europe and then get a real job. It didn't work out that way. The more you do it, I guess, the more you like it.
Tickets cost between $59 and $121 and are available at the arena box office, 720 W. Mallon Ave., by calling (800) 325-SEAT or at www.ticketswest.com.