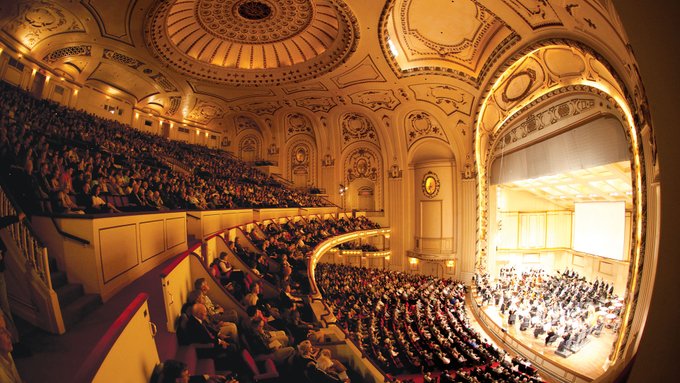 St. Louis Symphony Orchestra of Missouri Announces Concert Hall Renovation
Built in 1925 as a movie theater, Powell Hall was originally called the St. Louis Theater and became the permanent home of the Saint Louis Symphony Orchestra (SLSO) in 1968. It was also added to the National Register of Historic Places in 2001.
The Concert Hall redevelopment will be the first major renovation project for the historic Grand Center building since 1968. Key elements of the renovation include a 65,000 square foot extension with a 3,400 square foot education and learning center square feet, a new lobby and backstage space for artists.
The expansion aims to allow for greater community interactions, innovations and connections, as well as to enhance the audience-artist dynamic by modernizing the venue while preserving its historic character.
"[Powell Hall has] superb architecture, which we intend to preserve", said SLSO President and CEO Marie-Hélène Bernard in St. Louis magazine. "It has one of the best acoustics of any concert hall in the country, but like many halls over the years, especially as we approach 100 years, there is an aging process. So we need to update. The audience experience has evolved, and the artists' experience has evolved as well.
The hall's new learning center will become a rehearsal space for the St. Louis Symphony Chorus, IN UNISON Chorus and St. Louis Symphony Youth Orchestra, in addition to providing space for educational programs, lectures and events.
The center will also be a platform to build partnerships to continue SLSO's programs which include over 300 shows and events per year.
Still in the planning phase, the Powell Hall project will be presented on March 28 to the St. Louis Preservation Board. The project will be led by architectural firms Snøhetta and Christner Architectsalongside a theater planning consultant Schuler shookacoustic design firm Kirkegaardand BSI manufacturers.
Plans for the project include a reduction in auditorium capacity from 2,683 to 2,150 seats, with larger seats and extra legroom to increase comfort and improve accessibility.
ADA-accessible features will include additional seating, and to improve security in the venue, handrails will be added as well as three elevators. In addition, a state-of-the-art lighting system will also be installed.
"We serve a very wide range of audiences, from the very young to the very old," continued Bernard. "[This project] will also really allow everyone to facilitate their access to the building, but also to make the experience easy for people.
"Social connections are so important to music and the way music can take different forms," Bernard explained. "The extra space and the renovated space will allow for some interesting explorations that we can't necessarily do right now…This project is for our community," Bernard said. "We are making a significant investment in our city and our region.
"The renovation and expansion of Powell Hall will strengthen SLSO's position as the economic engine of the region, which already generates $100 million in economic activity each year," added the Chairman of the Board of Directors of the SLSO, Steve Finerty. "SLSO is thrilled to be part of this trajectory, supporting St. Louis' reputation as an extraordinary place to live with one of our country's most established and thriving arts and culture scenes."