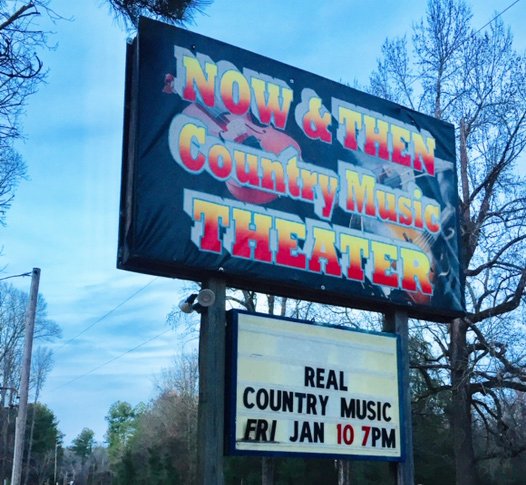 Now and Then Country Music Theatre: Bringing Country Music to Life
Now and Then might not be an original name, but for this country music theater, it's definitely a fitting name. The theater is just a metal building built for the purpose it serves.
"It's not very chic, but you could hear anything country between Hank Williams and George Jones. We try to keep the country but without this so called modern day country," said Sonny Higdon, the owner of the place. "It's a place where a bunch of good old boys who like to play and sing get together and have a good time. They are not exclusively boys. There's usually a girl or two in the mix. These old boys and girls all happen to be great performers in the country music realm. There's Zane Glasscock, Michael White, Vic Reynolds, Charlie McBay, Dennis Minor, Jimmie Daniels and Brenda Beene.
These musicians that Higdon manages to bring together on County Road 43, New Hope Road, on the second Friday of each month are well-known and exceptional local artists. Brenda Beene, a Stamps area crowd favorite, plays the mandolin and sings a lot of country gospel.
It's common for Michael or Sonny to spot someone in the audience who's a locally known singer and yell, "Hey, come over here." This is just one example of the relaxed atmosphere of the Now and Then Music theatre.
"These old boys can play," Sonny is often heard to say, speaking fondly of his fellow musicians. "And this Charlie McBay?" Isn't he a pro of this keyboard? The thing is, he was a pro. He performed on stage with Bob Wills at one time and is a member of the Texas Country Music Hall of Fame. And Glasscock, there's nobody in Branson or Nashville who can stick with him on lead guitar, and he can sing a variety of songs as well as anybody. White is just a great all-around performer. He sings almost every night. He can sing a Merle Haggard or one of his own or anyone's songs. He can play the guitar or the violin, with the best of them.
Higdon continued, "The thing is, he played in Nashville and was a songwriter there. But luckily he fell ill and had to give it up. His health seems fine now, so I guess it's their loss and our gain. And Brenda Beene, I don't know how we were lucky enough to get her here. She loves her gospel music and sings as well as anyone I know. Then there's Vick replacing Glasscock and Michael resting and singing a slow, dreamy number. It's obvious that he loves what he does. It makes him happy and happiness is contagious.
Higdon keeps a low profile. In fact, he could have coined the term, but he's a violin player and singer in his own right. From time to time, he approaches the microphone and sings a Marty Robbins or a Merle Haggard, then steps back and sits on his stool with his violin. He almost never tells a joke or tries to engage the audience. He leaves that to Glasscock, Michael or Dennis who seem comfortable with that sort of thing. Their ad-libs create comedic situations that audiences seem to love. Michael is an expert at self-deprecating humor, the clown without oversized feet or makeup. Glasscock is the joke teller with specially selected, perfectly clean jokes that always fit the occasion. Almost always.
In country music, a drummer doesn't normally get the chance to show off their full skills. It's mostly about keeping the beat, but most performances of Now and Then Glasscock calls out a song, such as "Mama Don't Allow," that gives all the musicians a chance to solo on their particular tool. That's when 14-year-old Jimmy, usually quiet and reserved, rocks the crowd with his drums. He shows that when necessary, he can strut his stuff.
The crowds that turn up on the New Hope Road to listen to old country music ranges in number from 35 to 40, depending on what's going on elsewhere or the weather conditions, but no matter how many they always have a kick , applause, good time.
"This thing isn't about the money," Higdon said. "We just like to have a good time and we want everyone to too."