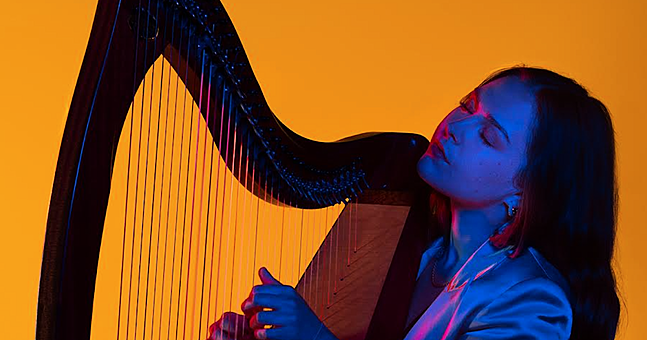 National Concert Hall Unveils "Refractions" Series Featuring Lisa O'Neill, Gemma Dunleavy, Gemma Doherty and More
All tickets on sale this Friday, September 10 at 10 a.m.
To mark the hall's 40th anniversary, the National Concert Hall has announced an ambitious concert program as part of its new season called "Refractions".
Refractions – known as the scientific phenomena of light and sound passing from one medium to another – is an undeniably fitting title for a shape-shifting program that moves across musical genres, features multiple collaborations and collaborators, and celebrates diverse musical perspectives.
Offering a mix of performances and events, the NCH series includes over 30 concerts taking place from September to December, providing audiences with a variety of online and on-site events.
Classical music lovers can discover leading Irish ensembles, including the Irish Chamber Orchestra with composer and conductor Jörg Widmann; Chamber Choir Ireland performing Aaron Copland, Ross Edwards, Dmitry Bortriansky and Heitor Villa-Lobos; Camerata Ireland with Barry Douglas, piano performing Seán Doherty, John Field, Shostakovich and Tchaikovsky and Irish Baroque Orchestra performing Bach's Brandenburg Concertos.
The series also includes two new concerts called 'Raise your Voices' hosted by acclaimed mezzo-soprano Tara Erraught and featuring some of Ireland's emerging and established singers in concert.
The Chamber Music Series will be presented in association with the String Quartet Foundation of Ireland, with performances by the quartets ConTempo, Lir, Navarra, Callino, Ficino, Gealán and Sonoro.
The hugely successful Tradition Now series also returns, featuring characters like Steve Cooney with sean nós singer Iarla Ó Lionáird; Any Woody Guthrie project from Irvine; NCH ​​and Arts Council Liam O'Flynn Fellow Jack Talty, champion sean nós dancer Edwina Guckian and many more in seven concerts between Thursday 30 September and Sunday 3 October.
A weekend special, "Utopia", was hosted by writer and podcaster Una Mullally alongside author and writer Conner Habib. This series of idealistic, speculative, experimental, and ambitious events elicits utopian visions from individuals and ignites the utopian will of the collective. Featured artists include: Gemma Doherty (of Saint Sister), Andrea Horan, Izumi Kimura, Daoirí Farrell, Rory Friers (ASIWYFA), Rebel Phoenix, DJ Replay and more.
Also new this season is "Prism," hosted by Grammy Award-winning Rhiannon Giddens. The musician organizes two evenings with guest artists including Francesco Turrisi, Denise Chaila, Niwel Tsumbu and Emer Maycock.
NCH ​​is playing a pivotal role in the 100th anniversary of the Anglo-Irish Treaty this year, presenting a new special project called 'Treaty: Songs' featuring Lisa O'Neill, Gemma Dunleavy, John Spillane, Karan Casey, Maija Sofia, Duke Special, special guest Christy Moore and more to come.
It sees artists writing new songs about a generation at a time of change. NCH ​​will also partner with Fishamble Theater and Anú Productions for Fishamble's The Treaty. The history piece examines the events surrounding the signing of the Treaty in December 1921, while the Staging of the treaty is a long-running production written by Theo Dorgan built directly from the textual text of the Treaty Debates.
All productions are supported by the Department for Tourism, Culture, Arts, Gaeltacht, Sports and Media, as part of the Centenarian Decade Program 2012-2023.
Celebrating 40 years of live music on Earlsfort Terrace, the National Concert Hall will mark the special occasion with a 40th anniversary celebration concert in December. Full details will be announced, along with a commission for a new composition to mark 40 years of live music at NCH.
"As Ireland's national cultural institution for music, we are proud to offer this new season of concerts and events, on the 40th anniversary of the National Concert Hall, and as we welcome back the public for the live concert experience," Maura McGrath, President and Robert Read, CEO of the National Concert Hall, said in a press release.
"The last 18 months have been particularly challenging for artists and those working in the industry, so we are delighted to provide a regular platform of live performances for musicians and to welcome back audiences as we let's collectively emerge from the darkness of Covid-19 into the light of a return to concert life.
Catherine Martin, Minister for Tourism, Culture, Arts, Gaeltacht, Sport and Media added her congratulations.
"Today's announcement by the National Concert Hall of its ambitious new concert season is cause for celebration for performers and the general public as we all emerge from COVID 19 restrictions. We all look forward to being able to again attend the wonderful performances in the concert hall in person. I would like to thank NCH CEO Mr Robert Read and his team for all their hard work in organizing this wonderful program and wish the Concert Hall every success over the next forty years.
Tickets for on-site concerts will be on sale from €10, while tickets for livestreams are available from €7.50. All NCH live streams will be available for 48 hours.
Tickets for each concert will go on sale this Friday 10 September at 10am on nch.ie.