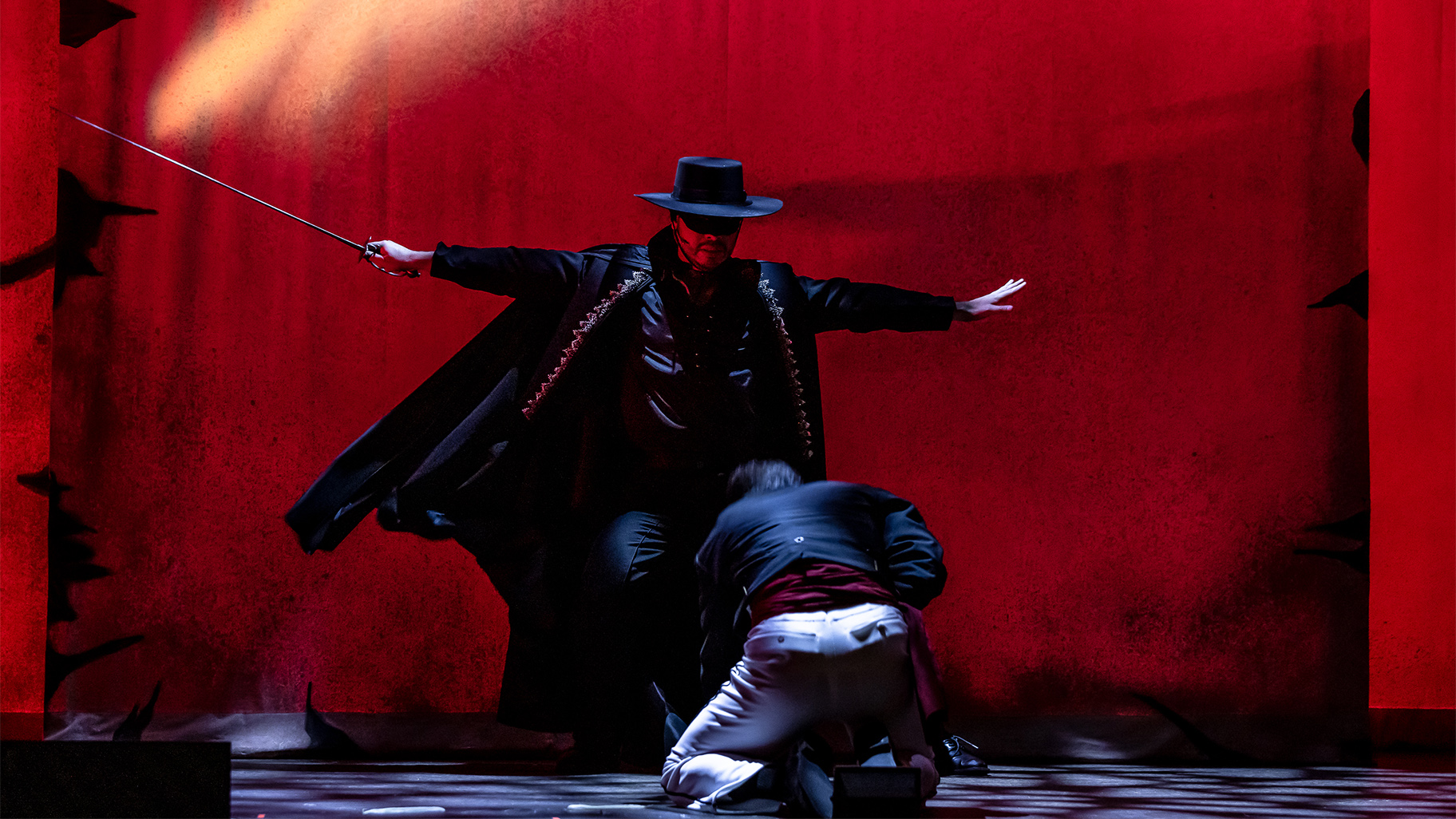 Music Theater Works' production of 'Zorro: The Musical' is lavish (and long) | Chicago News
Cisco Lopez (Diego/Zorro), Emmanuel Ramirez (Ramon) in Music Theater Works' ZORRO: THE MUSICAL, Aug. 12, 2022 – Aug. 21, 2022 at the North Shore Center for the Performing Arts in Skokie.

No doubt about it: Music Theater Works invariably puts on great, thought-provoking shows, assembles a top-notch orchestra, and brings together great actors and skilled design teams. His production of "Zorro: The Musical," a show that had its world premiere in London in 2008, and is now making its Chicago-area debut at the Music Theater Works headquarters at the North Shore Center for the Performing Arts, is a case in point.
That said, despite its many virtues and ambitious grand-scale staging, strong voices, daring swordplay, flamenco gypsy dancing, lavish costumes, a history of bitter sibling rivalry, political oppression and romance, as well as the catchy music of the Gipsy Kings (including the irresistible "Bamboleo"), this version of the "Zorro" story needs some work.
The screenplay, written by Stephen Clark and Helen Edmundson (based on a novel by acclaimed writer Isabel Allende), could benefit from a serious tightening. To put it simply, the show – energetically led by Adrian Abel Azevedo, with musical direction by Justin Kono – is just too long.
The story of the legendary "Masked Man" is set primarily in the early 1800s Spanish settlement known as the Pueblo de Los Angeles. It begins when Don Alejandro (Luis A. Galvez), the aging father of Diego (Cisco Lopez), decides to send his son to Barcelona, ​​Spain for the higher education that will prepare him to become the future leader of the Pueblo. Meanwhile, the resentful Ramon (Emmanuel Ramirez), a contemporary of Diego, seizes power, imprisons Don Alejandro, and becomes a cruel and tyrannical dictator in the colony.
Diego, who very early won the heart of Luisa (Laura Quinones), the young woman from the Pueblo who adores him and whom he must leave, is passionate about the Spanish gypsy community he meets in Barcelona, ​​and about Inez ( Alix Rhode), the hot-blooded flamenco dancer pursuing him who is very different from Luisa.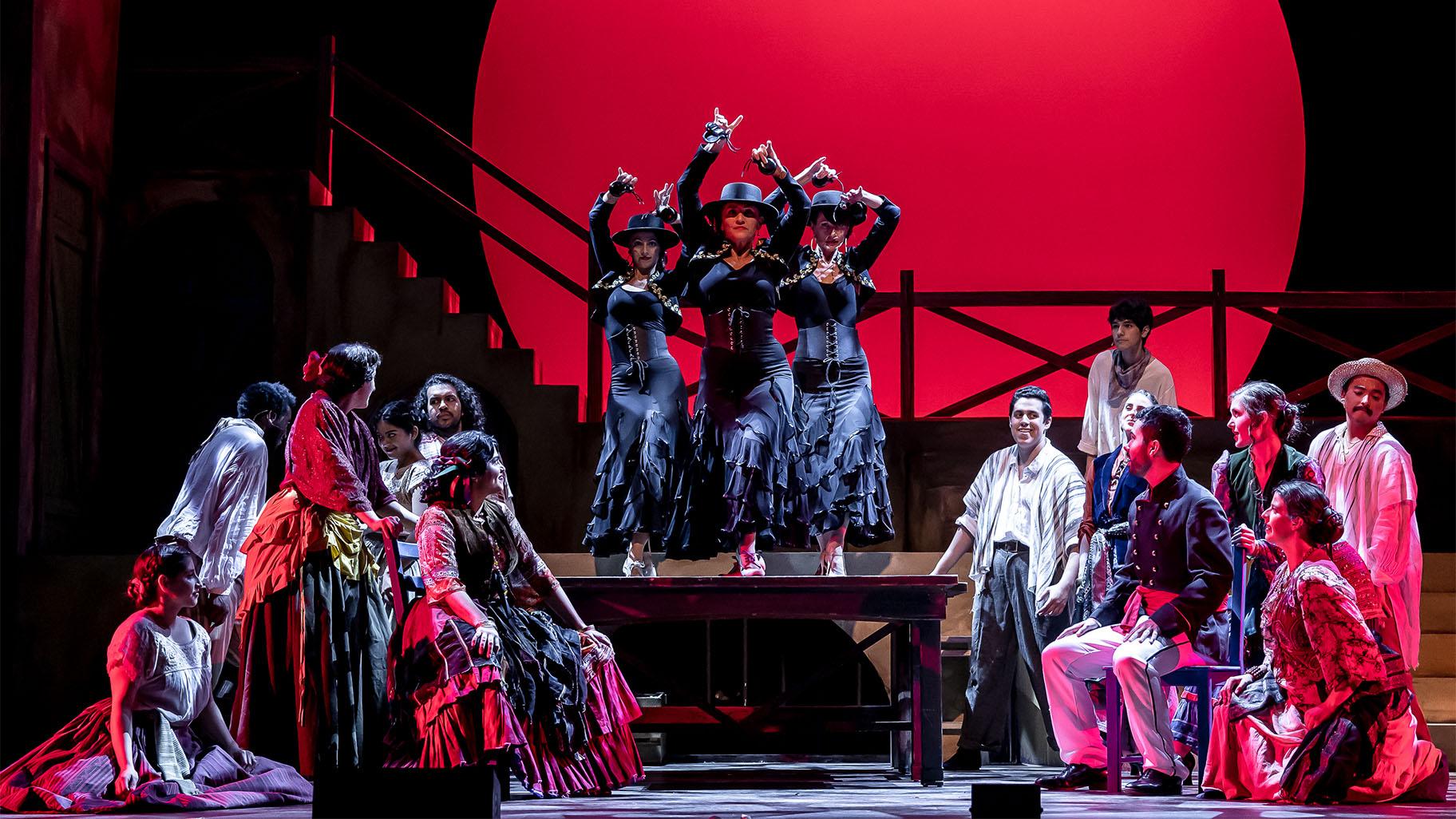 Lina Bulovaite, Jocelyn Leving, Karla Tennies Koziura (flamenco dancers and ensemble) in Music Theater Works' ZORRO: THE MUSICAL, August 12, 2022 – August 21, 2022 at the North Shore Center for the Performing Arts in Skokie.

But when Diego returns to Los Angeles (along with Inez and his friends), he learns of his father's imprisonment and is determined to free him and the citizens of the Pueblo. Disguised in what would become his signature black cape and mask, and the superb swordsmanship he picked up in Spain, Diego takes on the guise of Zorro (Spanish for "Fox") and tries at every turn possible to defeat Ramon and his soldiers. Luisa doesn't realize who he really is, but is drawn to the man who comes out of nowhere, dares to fight Ramon, and can never be stuck as he attempts to rid the Pueblo of its ruthless dictator.
As Diego/Zorro, Lopez is tireless as he fights injustice, wields his sword against multiple foes, and tries to deal with the two women in his life. Both Quinones and Rhode have powerful voices and capture the very different personalities of Luisa and Inez. A trio of flamenco dancers (Lina Bulovaite, Jocelyn Leving and Karla Tennies Koziura) are superb, with choreography by Luis Beltran Urena. Nick Sandys' fight choreography is full of bravery. And Diego Salcedo's on-stage guitar work sets the tone for many scenes.
As Ramon, Ramirez captures the mind of a cold-blooded dictator, Galvez suggests the wisdom and patience of a man who's seen it all, and J. Christian Hill deftly suggests the ambivalent feelings of Garcia, who plays Ramon's underling.
The characteristic costumes of Adriana Diaz and the scenography of Jacqueline & Richard Penrod capture the two worlds of the story: a Los Angeles of yesteryear and the flamboyant spirit of Barcelona and its gypsy culture.
Clearly, there's a lot to admire about this production, but it would definitely benefit from a good overhaul and tightening up of its script.
"Zorro: The Musical," runs through August 21 at the North Shore Center for The Performing Arts, 9501 Skokie Blvd., Skokie.
For tickets, visit: musictheaterworks.com or call (847) 673-6300.
Music Theater Works has announced an ambitious lineup for the 2023 season including:
• "Avenue Q" (March 9 – April 2, 2023)
• "Pippin" (June 1 – June 25)
• "The Producers" (August 11 – August 21)
• "Brigadoon" (Oct. 19 – Nov. 12)
• "Shrek: the musical" (from December 2 to December 23)
Follow Hedy Weiss on Twitter: @HedyWeissReview
---