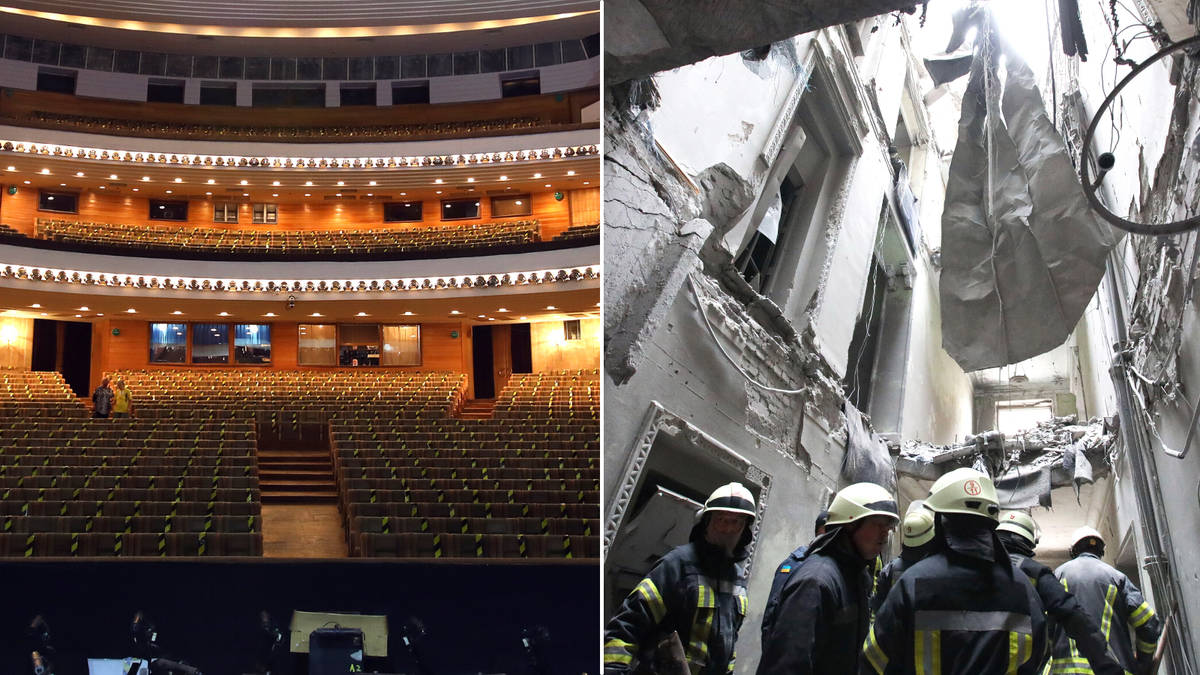 Kharkiv Opera and Concert Hall hit in attack on Ukraine's second largest city
March 1, 2022, 3:39 PM | Updated: March 1, 2022, 5:09 PM
Russian missiles and rockets hit the "cultural heart" of Ukraine's second largest city, Kharkiv.
Freedom Square in central Kharkiv was hit by a massive Russian missile, causing severe damage to an opera house, concert hall and government offices in an explosion of fire.
Kharkiv Academic Opera and Ballet Theater and nearby Kharkiv Philharmonic Orchestra reportedly hit in airstrike, in pictures circulating on social networks (warning: shocking images).
Kharkiv, which is Ukraine's second-largest city, has been heavily shelled since the war began last week, and today's attack alone killed 10 people and injured 35. Rescuers are still searching for civilians who may be buried under the rubble.
Liberty Square is the second largest city center square in Europe and a landmark of the city. Ukrainian President Volodymyr Zelensky called the strike an "act of terrorism" in a speech to the European Parliament. His speech comes a day after he signed Ukraine's application for membership of the European Union.
🇺🇦Central square of Kharkiv now.
"Whoever rallied for the Russian world on this square, is that what you wanted? We warned you, it's a bad idea" pic.twitter.com/qJQlBFTNPy

— Illia Ponomarenko (@IAPonomarenko) March 1, 2022
In his speech to the European Parliament just hours after the attack, reported on March 1, President Zelensky said: "This morning was very tragic for us, two cruise missiles hit Kharkiv.
"More than 20 universities are there. Many Russians live there. Young people are bright and intelligent, people gather there for the holidays.
"The largest square in our country – Freedom Square – can you imagine this morning that two cruise missiles hit it. This is the price of freedom that we find for our land and for our freedom.
"Every square in every city in our country will be called Liberty Square."
(warning: scary images below)
Liberty Square was littered with debris on Tuesday, with all the buildings surrounding the square suffering damage.
"This is not a random mistaken salvo, but a conscious extermination of people. The Russians knew what they were firing at," Ukrainian President Volodymyr Zelensky said of the bombardment of Freedom Square and other targets homes from the latest Russian airstrike.
Earlier this week, invading Russian forces burned down the local history museum in the Ukrainian town of Ivankiv.
The J. Paul Getty Trust in Los Angeles has condemned Russia for the "deliberate" burning of sites linked to the history of arts and culture in Ukraine, which now include the Opera House and Philharmonic as well as the Ivankiv Museum .
"The world's material cultural heritage is our common heritage, the identity and inspiration of all mankind," said James Cuno, Chairman and CEO of Getty.
"Cultural heritage has the power to unite us and is essential to achieving peace. It is also too often the target of war, another way of destroying and overcoming a society by erasing its memory.