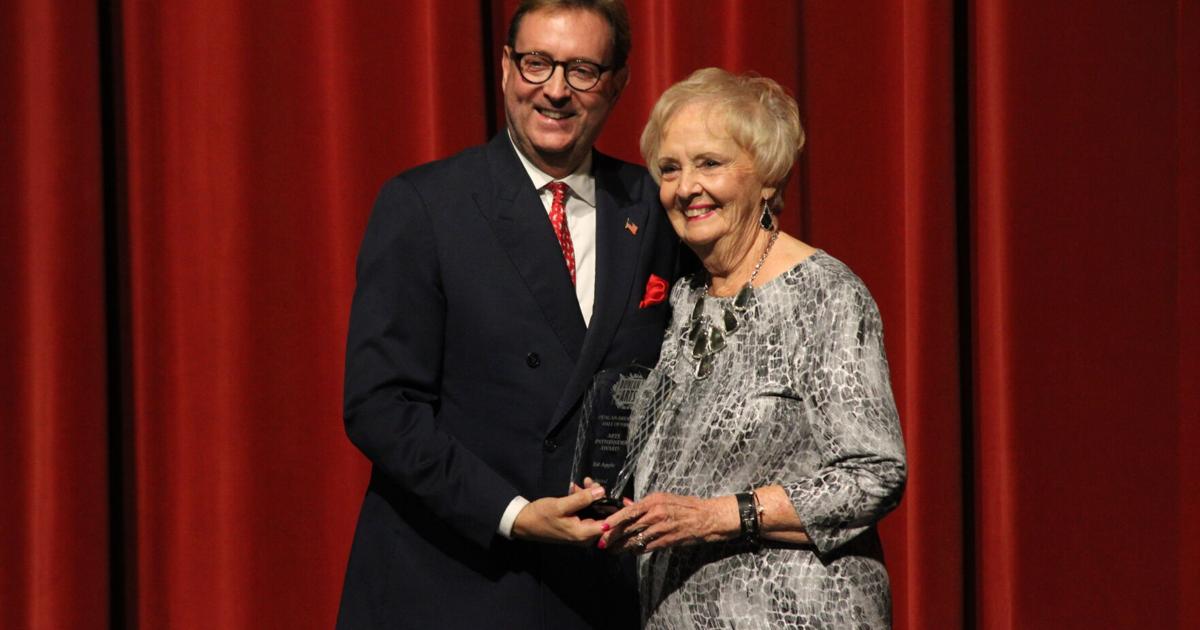 Duncan Area Arts Hall of Fame inducts five and honors others | Community
Deal of the Year took place on Saturday night in Duncan as the area Arts Hall of Fame recognized true talent within the community with a plethora of awards and the third round of inductions while funding also the modernization of the Simmons Center theatre.
Taking place on Saturday, January 29, this year's Hall of Fame Spectacular opened with a pre-show at approximately 5:30 p.m. and the main show at 6:30 p.m. The main show opening began with entertainment from Marc Sutton, accompanied by Penny Sutton and LD Jones hosted the evening.
During the first half of the show, various arts organizations, such as the Chisholm Trail Arts Council, Duncan Little Theater and Heartbeat Elite, recognized those who had contributed greatly to them over their years.
Community members who received awards from these organizations included Arlyn Brantley and Larry Gillette, with CTAC, Rodna Cherry and Lois Wilson, with DLT, and Lisa LeNorman-Freeman, with Heartbeat Dance.
After a brief intermission, the Hall of Fame inductees then received their honors.
This year's five inductees are Ed Apple, Sharon Burum, Gina Flesher, Donald Grantham and the band Summer Breeze.
First, the late Ed Apple, the idea man behind the Duncan Area Arts Hall of Fame, was inducted after a video honoring him was released.
Ed Apple was a Republican trailblazer from Oklahoma who served four terms in the Oklahoma House of Representatives, representing Stephens County. He served eight years as chairman of the Oklahoma Corporation Commission. Recognized as an organizer, motivator and visionary, he was a tireless and respected community leader. Ed was instrumental in forming the Duncan Leadership and Hall of Fame for the Duncan High Athletic Department and the Duncan Area arts community.
His wife, Betty Apple, accepted the award on his behalf.
"Thank you all for being here tonight," said Betty Apple. "I love thinking about Ed, I love talking about Ed… We weren't born or raised here, but we're Duncanites."
After Apple, Sharon Burum was then inducted.
Burum studied at the Oklahoma Arts Institute and holds a Bachelor of Arts in Theater Arts from Texas Tech University, as well as an M.Ed. from Cameron University. She taught Spanish and drama in public schools for 28 years. Since 2011, she has directed plays for Hodgson's Studio. She has been active with Duncan Little Theater and Oklahoma Community Theater Assoc. for over 25 years and was the founder of DLT's Teen Theater. She has directed over 80 productions and chaired a number of State and Region VI festivals. In 2010, she received an Oklahoma Governor's Arts Award. In 2012, she received DLT's Lifetime Achievement Award and OCTA's Hall of Honor. Sharon also sits on the National Board of Directors for the American Association of Community Theaters and has traveled throughout the South as a festival curator. Sharon recently received a Spotlight Award in 2019.
From there, the third nominee, Donald Grantham, was inducted, although he was unable to attend the evening.
Grantham graduated in 1966 from Duncan High School. He participated in the group led by J. Kenneth Smith, the choir led by Allen Clinkscales and studied piano with Mary Helen Wade. He received his Bachelor of Music from the University of Oklahoma, as well as his Master of Music and Doctor of Musical Arts from the University of Southern California. He began his 45-year teaching career at the University of Texas at Austin in 1975. Donald Grantham's music has been praised for its "elegance, sensitivity, lucidity of thought, clarity of expression, and fine lyricism" in a Citation awarded by the American Academy and Institute of Arts and Letters. His works have been performed by the orchestras of Cleveland, Dallas, Atlanta and the American Composers Orchestra, among others, and by wind ensembles around the world.
From there, Gina Flesher then received her induction into the Hall of Fame.
Flesher moved to Duncan in 1991 and almost immediately became involved with the Chisholm Trail Arts Council. She volunteered for committee work, such as bringing artists to schools, and served on the board of directors. She is currently serving again on the Board of Directors. In 1998 Gina became involved with the Duncan Little Theater and served on the board for two separate terms. She has served as director and producer on several occasions and has worked diligently in the costume business for countless productions. Gina enjoys researching grants and other donors who support the arts. Her volunteer work was recognized when she received the Governor's Award for the Arts in 2009. In addition to all of her artistic endeavors, she was a registered nurse for 42 years, 30 of which were at the Duncan Regional Hospital.
And finally, the group Summer Breeze was inducted to conclude the evening.
The group, Summer Breeze, was originally formed in 1976 by five young musicians with varied musical backgrounds. Original members included Gaylon Blankenship, Lynn Wilson, Kenny Stevens and Joy Schreiner. Soon after, Craig Combs and Billy Bob Lipscomb joined the band and began developing a sound that would lead to a four-decade span, performing locally and regionally, winning numerous awards throughout their career, including Oklahoma Country Band of the Year, Texhoma Band of the Year and True Value Country Showdown finalist. Summer Breeze have always been known as one of the top cover bands in the state and have had the opportunity to open for over 75 of Nashville's top artists throughout their careers. The current band members are Keith Woods, Bill Leyrer, Brian Holland, David Adair, Mark Dressler and Shane McClennan. Summer Breeze celebrated 45 years in the entertainment business in 2021 and remains committed to putting on a quality show every time it performs that all ages can enjoy.