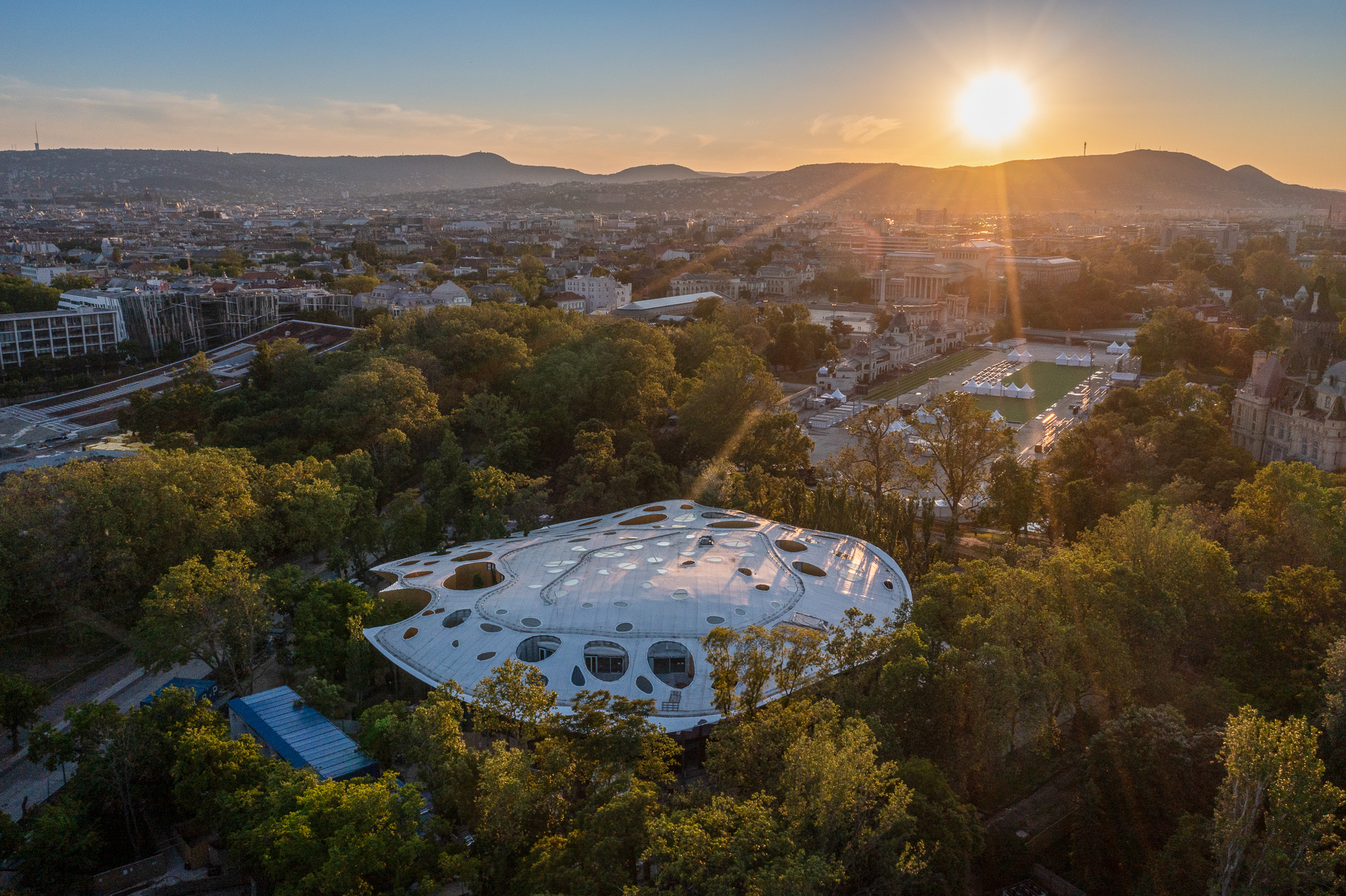 Budapest's spectacular new concert hall is part concert venue and part urban forest
What do you think of first when someone mentions Budapest? It can be the steamy baths of the Hungarian capital, the characterful ruin bars or the exceptionally good nightlife. But the city also has an established – and still thriving – musical culture, ranging from legendary composers like Franz Liszt and Béla Bartók to cutting-edge pop and techno.
And now there is a new jewel in the crown of Budapest's music scene. The brand new House of Hungarian Music, a totally spectacular concert hall and cultural center, was inaugurated on Saturday 22 January.
And although the House of Music is an important site for Hungarian music, it is also an amazing piece of design. Japanese architect Sou Fujimoto designed the HoM to merge with the trees of the surrounding city park. Sycamore trees run across the ceiling, while the wavy roof is meant to mimic the feeling of being under the canopy of a tree.
There are more than 100 holes that let natural light into the place, while the underside of the roof is covered with geometric shapes that look like leaves. Inside are a 320-seat concert hall, a large museum, a library, an amphitheater and a few classrooms. The whole building is part of the wider Liget Budapest project, which will see the construction of several museums in the 122-hectare city park.
But there is a catch. The whole Liget project is a bit controversial, to say the least. Some have accused it of being a nationalist exercise by far-right (and not so allegedly racist, homophobic and anti-democratic) Hungarian Prime Minister Viktor Orbán. With costs reaching 80m euros (£67m), some have also said that given that Budapest already has several concert halls, a music academy and a famous opera house, the whole thing could be a bit unnecessary .
But even if its grounds are a bit dodgy, the building itself is undeniably beautiful. The first exhibit will be a fascinating look at Hungarian pop music from the 1950s to the 1990s – so the next time you're in Budapest, soaked in baths and drunk in ruined bars, it might just be worth a visit.
Cooler plans:
The largest sculpture in the world is being built in the desert of the United Arab Emirates
The UK is getting its first permanent immersive digital art gallery, and it looks amazing
Tourists will soon be able to visit all-new parts of the Korean Demilitarized Zone