AL_A ​​Unveils Winning Philharmonic Concert Hall in Belgrade, Serbia
a large philharmonic concert hall by al_a
Amanda Levete Architects / AL_A presents its winning entry in the competition for the new Philharmonic Concert Hall in Belgrade, Serbia. The proposal was selected as the winning entry following a year-long competition process involving some of the world's leading architectural firms, including Diller Scofidio & Renfro. The 1,600-seat concert hall will be the country's largest cultural project in decades and represents the team's vision of a better and more sustainable future for the capital.
The historic building will be located next to the historic Palace of Serbia in New Belgrade. Along with the concert hall, the project will accommodate rehearsal and creation spaces, introducing a new, world-renowned center for musical performance and public gathering.
images courtesy of Amanda
the winning design team
The winning entry for the Belgrade Philharmonic Concert Hall is designed by an international team led by Amanda Levete Architects / AL_A (see more here). This team includes VDLA landscapers, AFA Consult engineers, local architects Zabriskie, with acoustic and theatrical design by Arup.
Prime Minister of Serbia Ana Brnabić comments: 'The Belgrade Philharmonic Concert Hall is the largest cultural infrastructure project in Serbia and the region, and will be one of the largest in Europe itself. I am proud that this decades-long dream of our professional musicians, young talents, music lovers and the people of Serbia is finally coming true in such beautiful form..'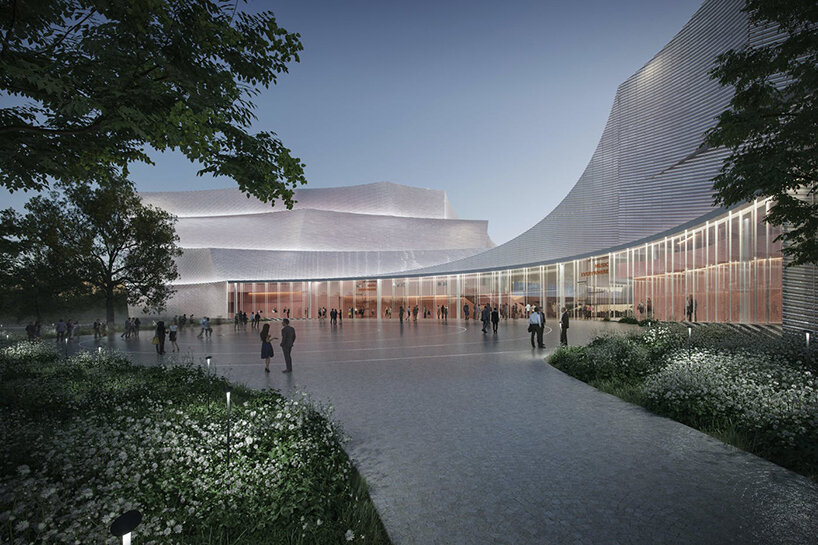 a vision for the future of belgrade
Prime Minister Ana Brnabić continues: 'I believe this room will be one of this government's greatest cultural legacies. Investing in culture and education is crucial to establishing the pillars of a prosperous and strong modern country. This is something we started with many similar cultural projects.'
'This concert hall will definitely become a new landmark of Belgrade and attract visitors and tourists to our country. Moreover, with its quality programs, it will enrich the cultural life of our fellow citizens. I firmly believe that it will become another regional center for making contacts and exchanging knowledge, with the flow of creativity, ideas and experiences from domestic and foreign artists..'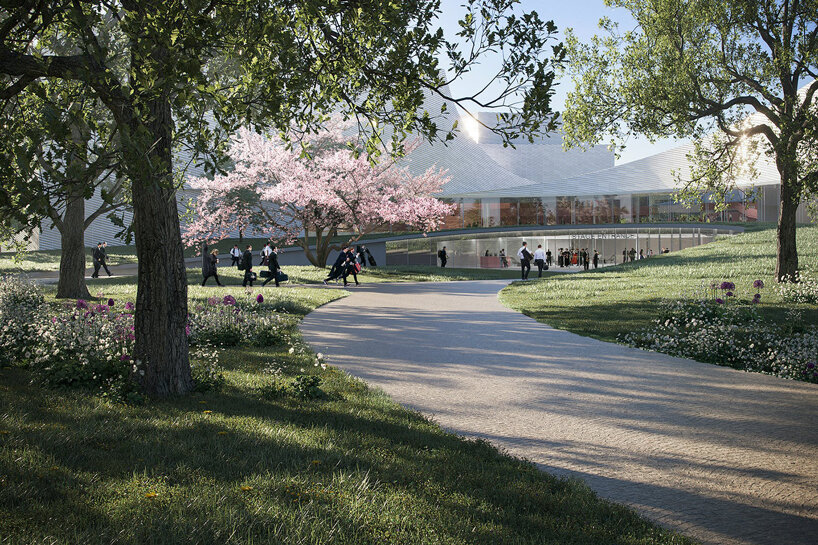 Amanda Levete comments on the spirit of the Belgrade Philharmonic Concert Hall: 'You couldn't ask for a better site than this to convey Serbia's vision for the future. The beautiful setting of Ušće Park, on the banks of the Danube, sends a powerful message about transforming and regenerating our cities into greener and more beautiful spaces.
'The concert hall will be an expression of harmony between nature, architecture and music, at a pivotal point in Europe where East meets West. It will be a place where people from all backgrounds and cultures, of all ages and abilities, come together to revel in music of all genres..'